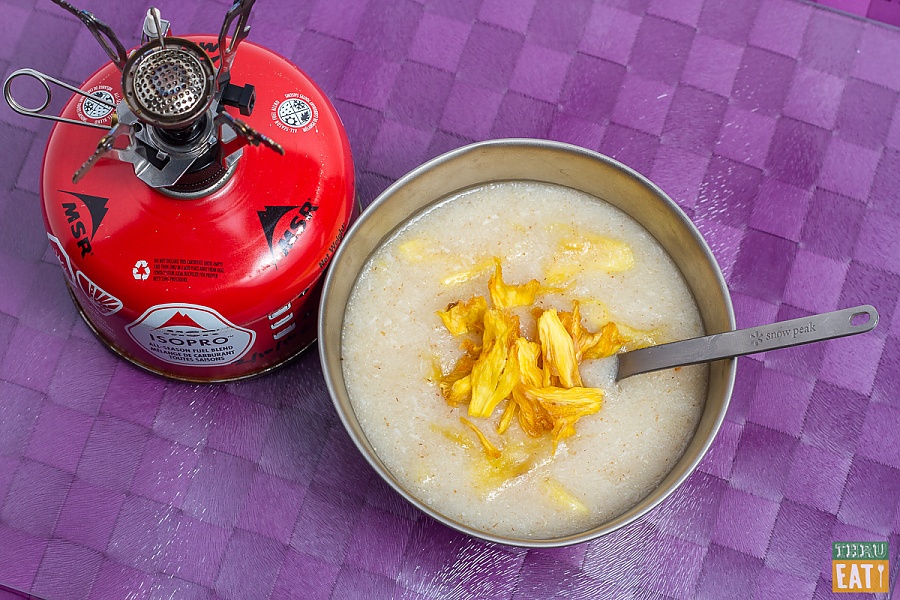 Note: the recommended amount of sugar is pretty sweet, so adjust as necessary for your own tastes.
Packaging
Bag 1:
cream of wheat
dehydrated pineapple
shredded coconut
sugar
salt
Bag 2:
Optional: Storage sugar separately like a spice so you can adjust to taste.
Breakfast doesn't have to be boring, or repetitive! This piña colada backpacking breakfast recipe is a great alternative to the usual oatmeal.
Much like oatmeal though, it's hit or miss with a lot of people. Cream of wheat has even less texture than oatmeal, so if your grudge with oatmeal is that it's a thick gloopy paste then stop reading here. If you happen to like oatmeal then cream of wheat just might be up your alley. For the unintiated, it has a texture similiar to really smooth apple sauce and very little flavor. It lacks the oaty flavor of oatmeal, and actually does taste creamy even without adding cream or milk. A lot of people prefer to eat it plain with sugar and a touch of salt, which makes it a really great base for adding fun flavors (and calories).
I've taken some liberties in calling this piña colada; first, there's no rum, coconut cream, pineapple juice, and definitely no maraschino cherry. Secondly, with the proportion of ingredients used the coconut and pineapple flavor is really subtle and hardly the punch in the mouth of a real piña colada. Regardless, it's a great way to throw some variety into the morning camp routine. If you want to make it more authentic, feel free to booze it up, it'll be our little secret.
My favorite part of this breakfast is that it's easy and very fuel efficient. Everything gets added to simmering water, stirred for a bit, and then turn off your stove to conserve fuel. Cream of wheat requires basically no cooking, and if you somehow mess it up and it's too runny just put it back on the heat. If it's too thick, add more water. Pretty foolproof food. But there's a downside, it's pretty nutritionally sparse, there's very little fiber and nutrients when compared to oatmeal but we supplement the heck out of it here with our goodies. If you want even more calories for those hard hiking mornings, add more coconut oil. The cream of wheat soaks it up and it really doesn't taste greasy. Alternatively, toss in some Nido or other powdered milk alternative if you want it extra creamy. I don't think it's necessary, but that's another way to add more calories and flavor.
Alright, enough jabbering about one of the simpler recipes on this site. Here are gratutious cooking pictures (Note: you don't have to add ingredients one at a time, I did it because I portioned it out for the photo. It can just be added all at once. See directions further below.)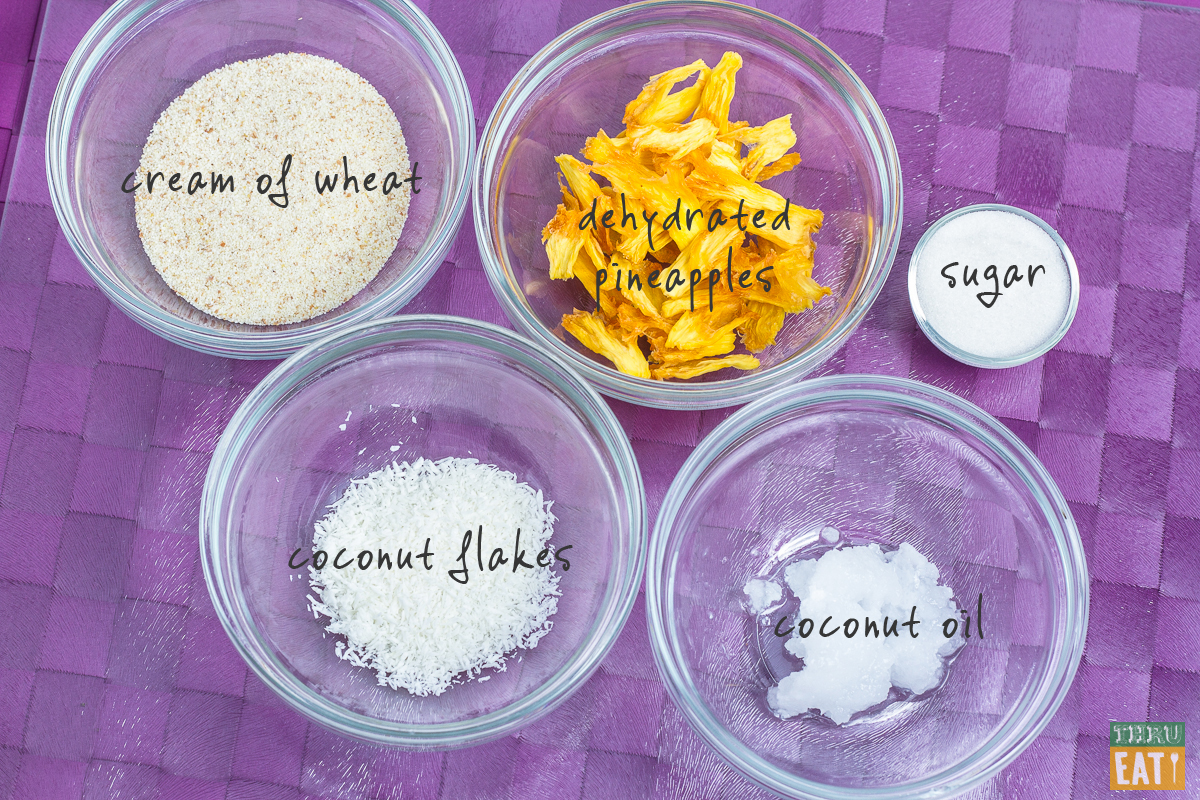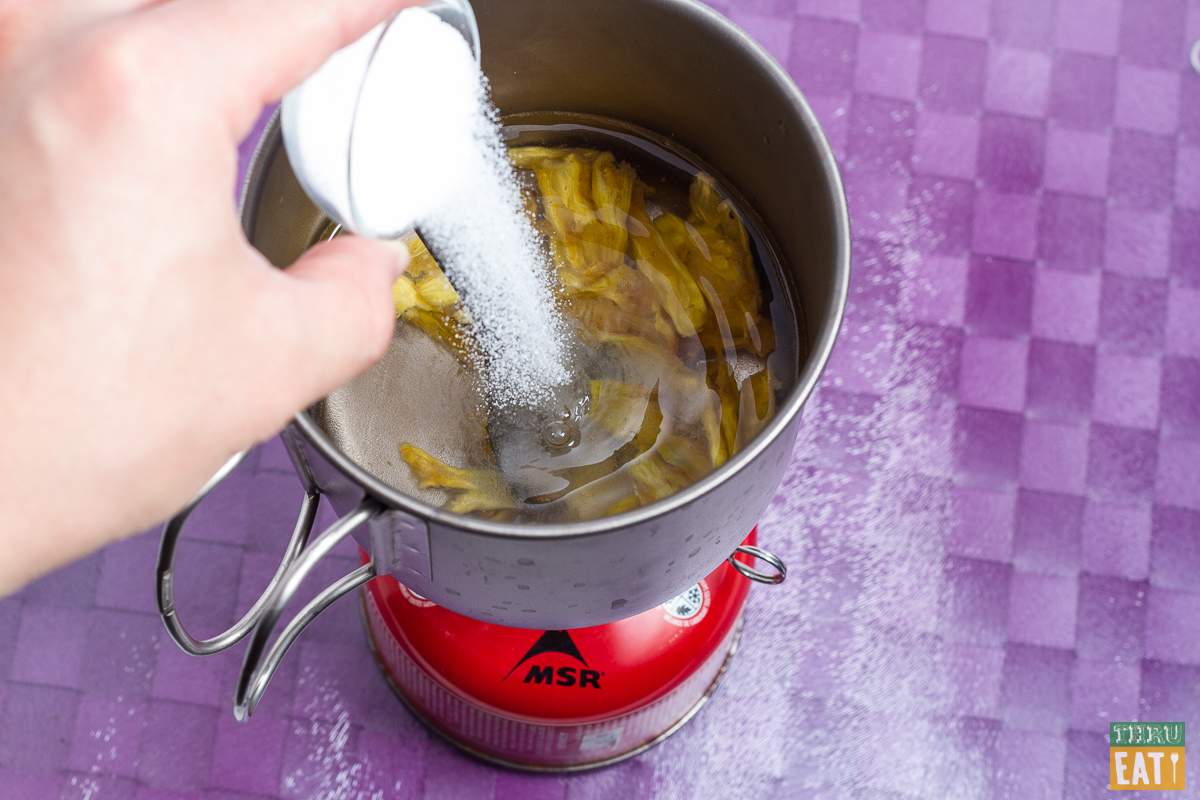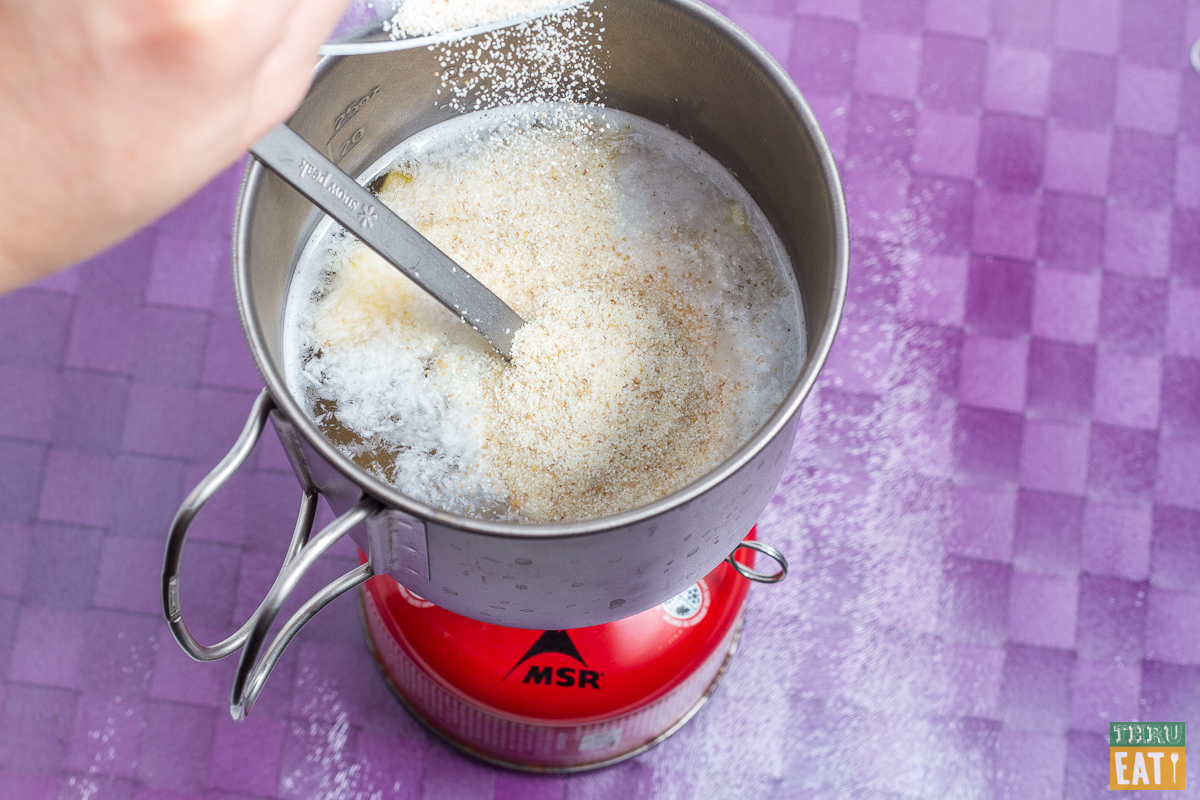 After you add the oil, it'll float to the top so now is the time to stir! Stir! Stir some more!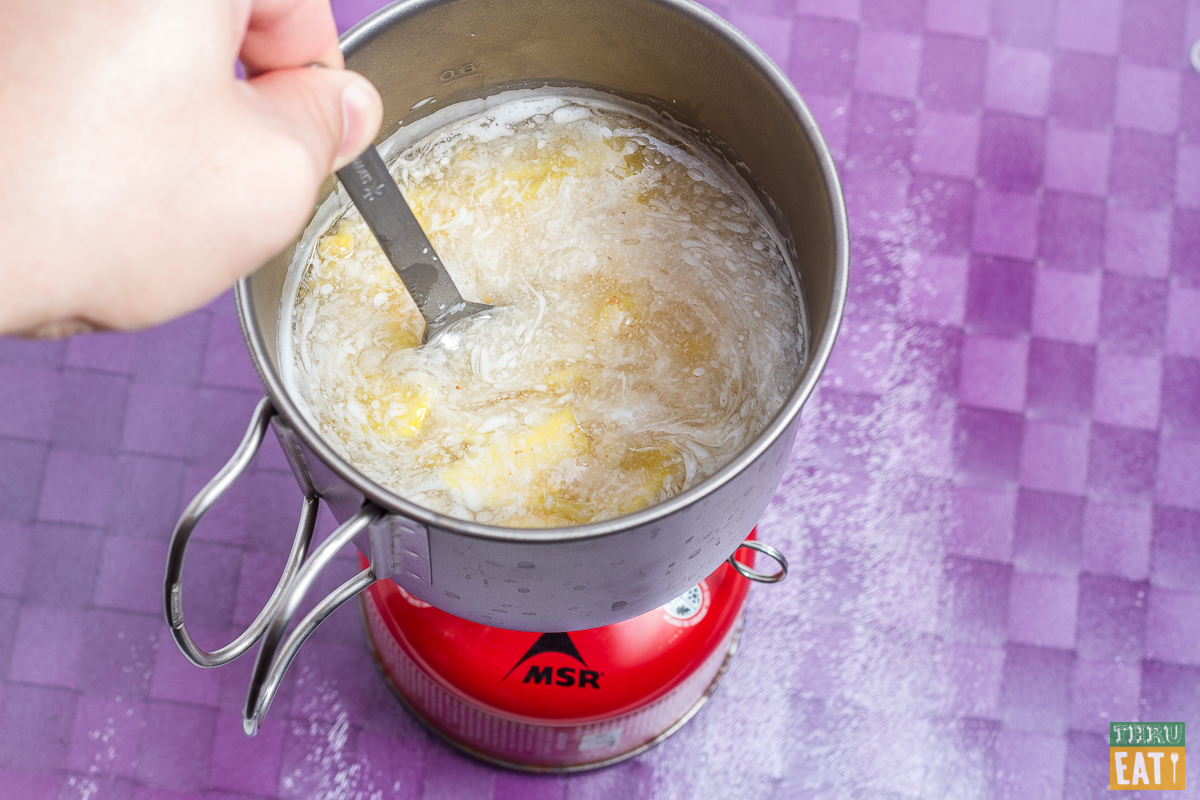 Eventually (within a minute or two) it thickens up to something like this.
Don't let the texture fool you, it's so good this might be my new go-to breakfast. Oatmeal is fine and dandy but this packs much smaller, uses marginally less fuel, and requires less chewing effort. Yes, I'm lazy, but at least I don't add rum to my breakfast.
Directions
Bring 1.5 cups of water to a simmer.
Add Bag 1 (cream of wheat, pineapples, sugar, shredded coconut) to pot.
Keep stirring and bring back to a light simmer, 1-2 minutes, or until thickened.
Add Bag 2 (coconut oil). Turn off stove.
Remove from heat and stir vigorously until coconut is full incorporated.