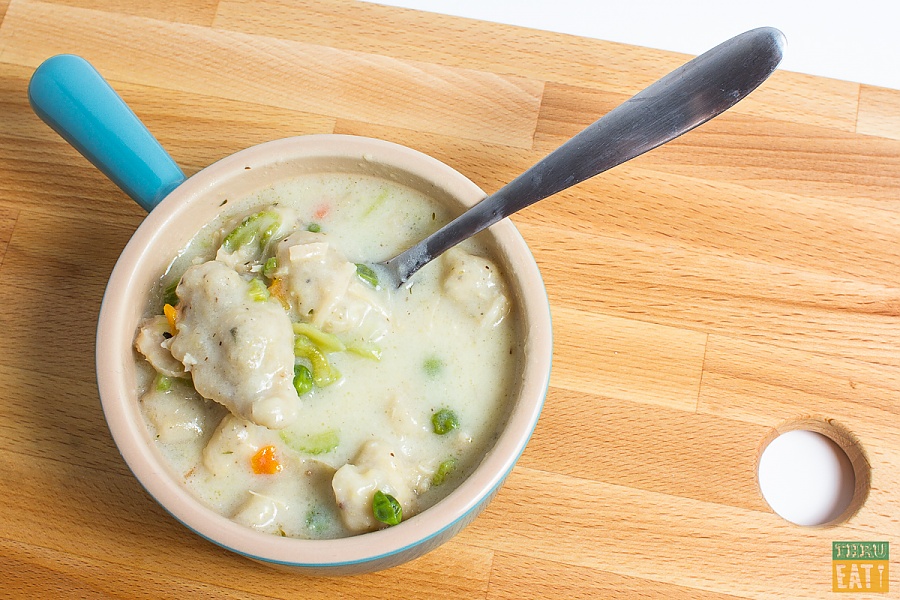 *Note: makes 1 very large serving or 2 smaller servings. Adjust portions accordingy.
Packaging
Bag 1:
butter powder
olive oil
chicken
peas and carrots
celery
onion
chicken bouillon
thyme
Bag 2 (biscuit dough mix):
all purpose flour
baking powder
cornmeal
mushroom powder
dried parsley
milk powder
pepper
It's time for good ol' chicken and dumplings (this one's for you, Deborah!)
But before I dive into it, I know there will be a lot of dissent and disagreement coming from my Southern friends. The majority of people from the South consume rolled dumplings. Which is a flour-based dough, rolled flat, then cut into strips. Some people would argue that those are noodles, but what's in a name?
For simpler trail preparation purposes, dropped dumplings are the better option (sorry rolled dumpling fans--it's not personal). However, feel free to make rolled dumplings while out in the wilderness if you typically camp with a rolling pin.
While the traditional way of making chicken and dumpling involves hours of stewing chicken carcasses with a mirepoix, we unfortunately don't have that luxury or the leg strength and refrigeration to accomplish the task. What we're left with is chicken bouillon, some dehydrated vegetables, and a whole bunch of flour. Don't worry, it's going to be, as they say, DEE-LISH-US.
Right off the bat this is a two package meal. One package for your dumplings and one package for everything else. My pictures show a single-serve packaging of flour (which I then added water to), but it actually isn't the most effective use of space and resources.
If you're going to be out for a while and plan to have this for multiple meals it's better to adopt the NOLS approach and keep the ingredients in one larger bag, and then portion and prep it as needed. Of course, this means you'll have to make the dough in another container. The fantastic upshot is you now have flour to make a variety of other things, like bannock bread and even pancakes.
The ingredients for this chicken and dumpling recipe is incredibly similar to the chicken noodle soup recipe, but the resulting meal is shockingly different in appearance. The biggest deviation is the addition of flour and baking powder for the dumplings. To which I add a number of spices and mushroom powder (which is just dehydrated mushrooms that have been ground down). 
Why mushroom powder in the dumplings? Because we're dealing with large chunks of dough and a base soup/stock that does not contain a very deep flavor (remember we're not simmering for hours). The addition of mushrooms in the dumpling dough adds glutamic acid and gives it more umami. Basically, it'll make it tastier and less bland. As for the addition of the cornmeal… well, I'll have to openly admit the idea was taken directly from The Pioneer Woman. It keeps the dropped biscuits from being too doughy, and you can't even tell it's in there.
Add plenty of water to the base ingredients, way more than usual (approximately 3-4 cups), and bring to a simmer. While you wait for things to heat up, prep your the biscuits by adding half a cup of water and kneading the bag. They should actually be pretty thick, just runny enough to squeeze out of the bag (or spoon out in a ball).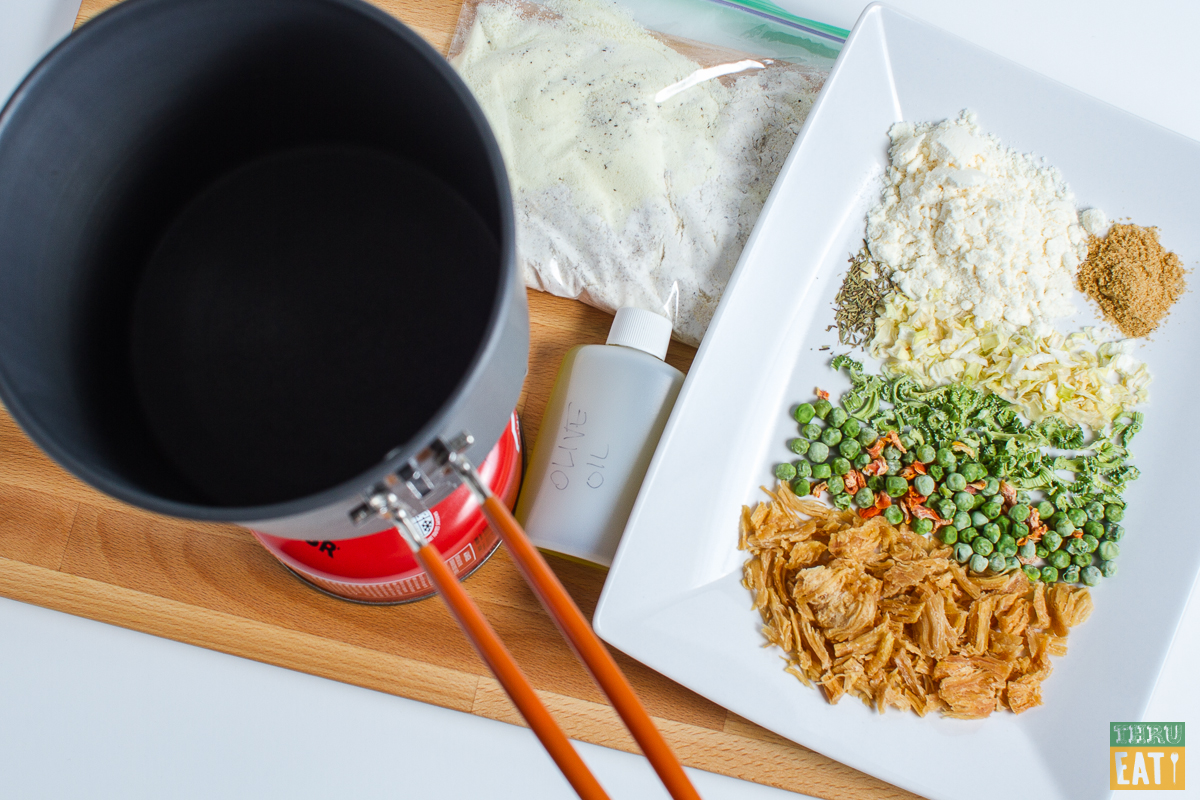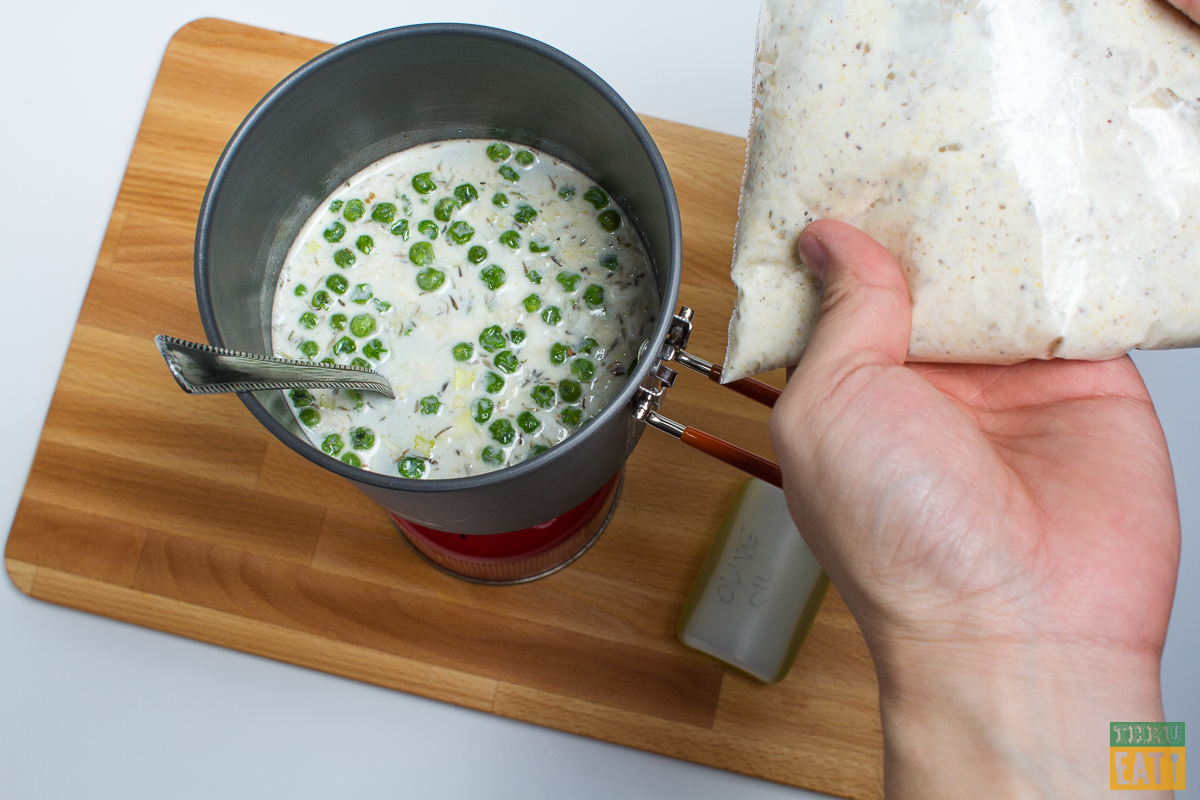 Cover and wait…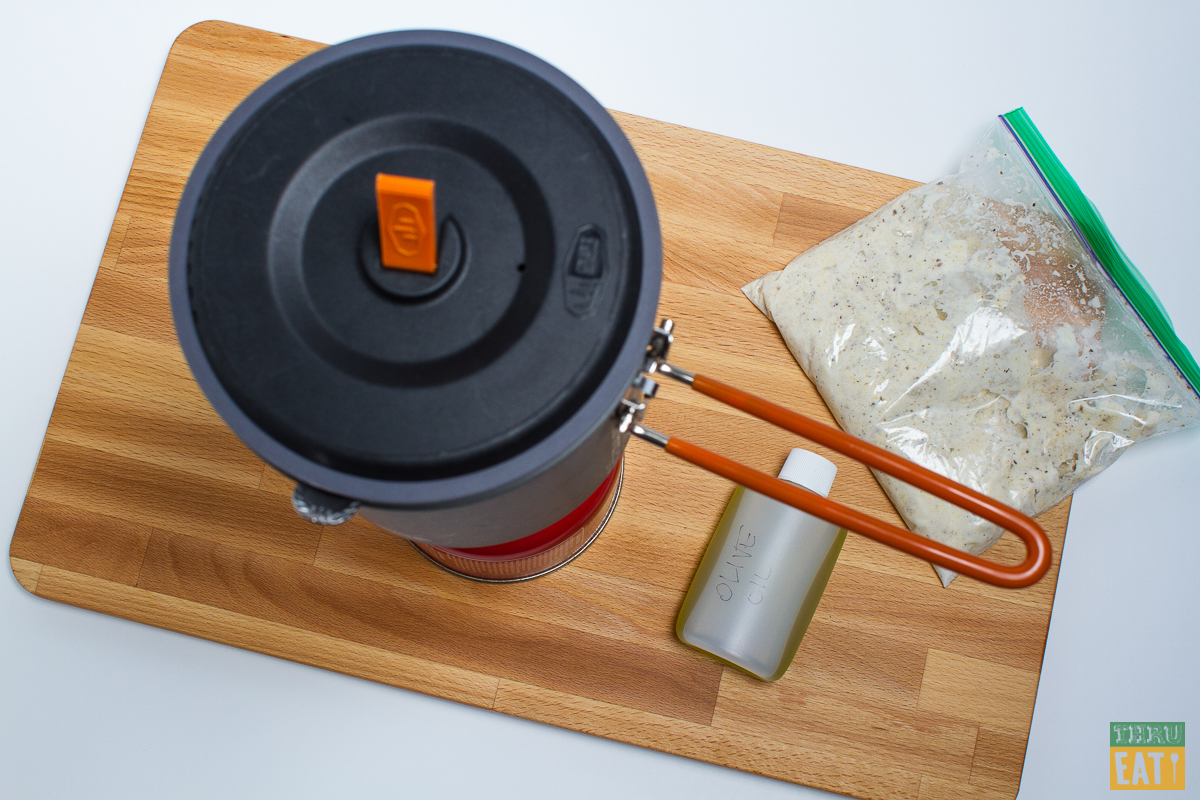 … till it simmers!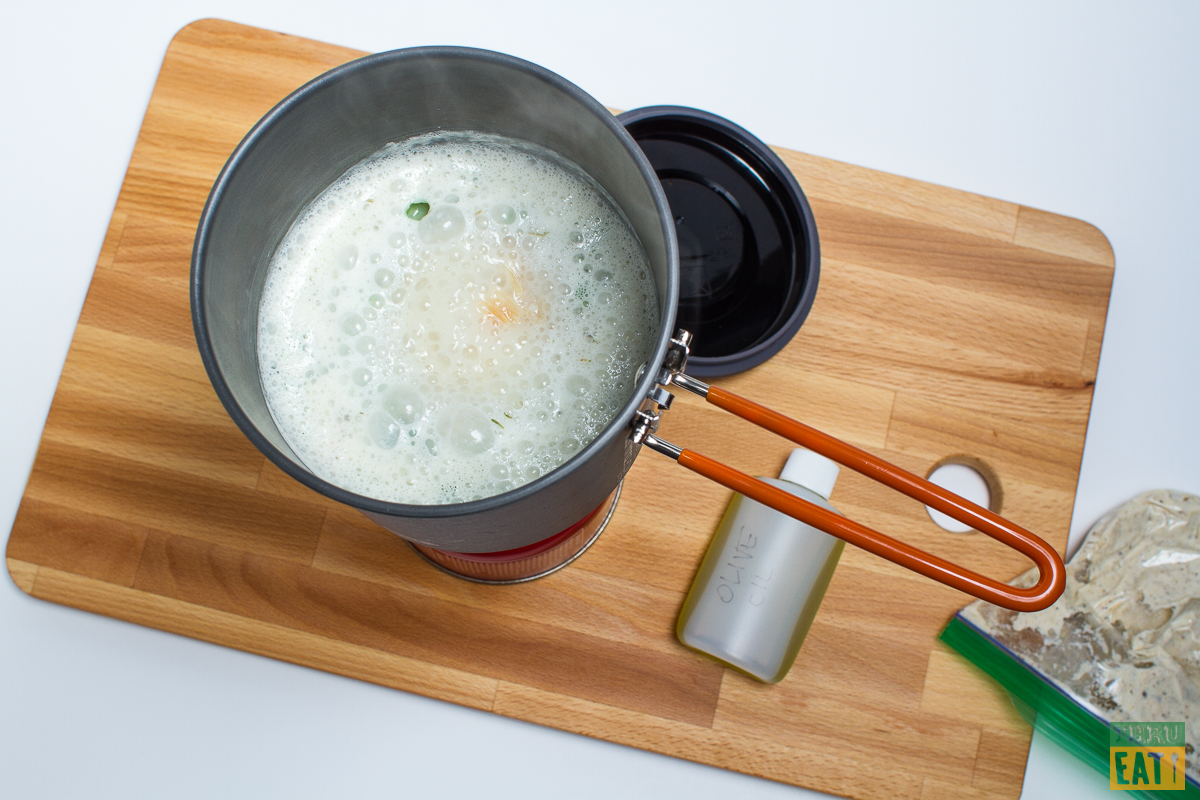 Then spoon in the dough, or do as I did and bite off a corner of the bag and squeeze it in.
If you're as immature as I am, your mind will instantly wander to a particular activity that involves a cathole. As such, be sure to pinch it off at the tip of the bag to avoid large dump-lings which may not cook all the way through. Unlike the other activity, once you've evacuated (the bag of dough), hand-washing is not necessary.
The smaller the drops, the faster and fluffier the dumplings will cook; so aim for dumplings no larger than two fingers width. Then give it one good stir, cover the pot, and put it on a low simmer for 10-15 minutes while you go kick rocks or something.
When the dumplings are fully cooked, add the calorie boosting olive oil. Then take it off the heat, stir, and enjoy.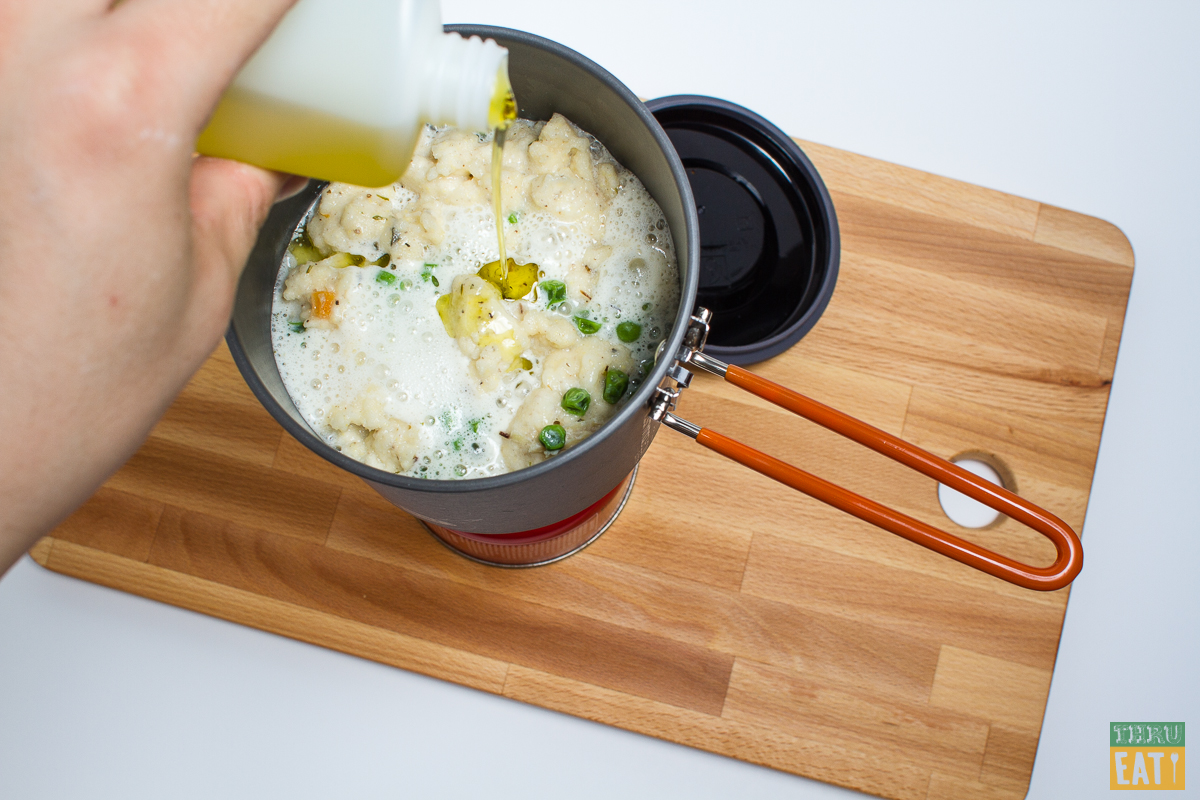 Or, serve it in your favorite onion soup crock. But it's probably more convenient to just eat it out of the pot.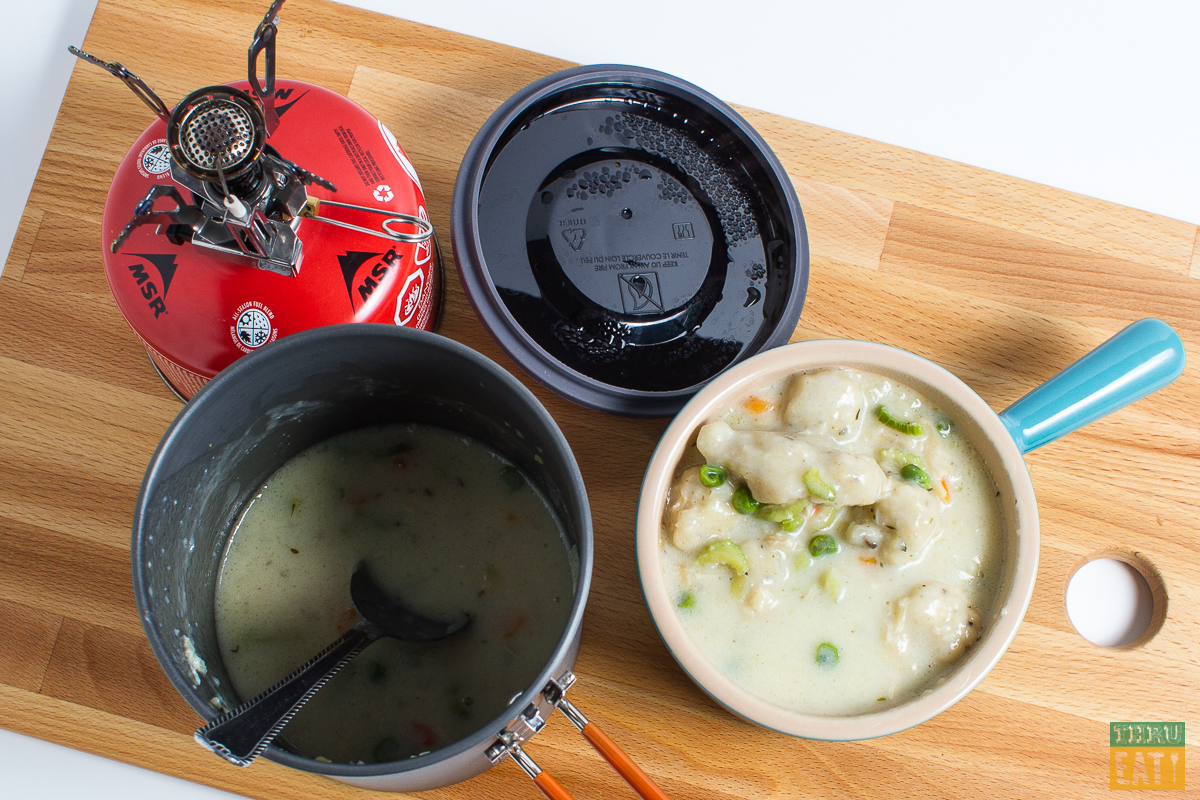 Directions
Empty contents of Bag 1 (base ingredients: chicken, peas and carrots, celery, etc) into a pot.
Add 3-4 cups of water, or enough to submerge by a good 4-6 inches.
Stir, cover, and bring to a simmer.
While waiting for a simmer, add 1/2 cup of water to Bag 2 (biscuit dough mix) and knead till thoroughly mixed.
Once pot is simmer, tear off corner of bag and squeeze drops of dough into the pot. Waiting 2-3 seconds between drops.
If necessary, add more water to fully submerge dropped biscuits.
Stir, cover, and simmer for 10-15 minutes.
Stuff your face!