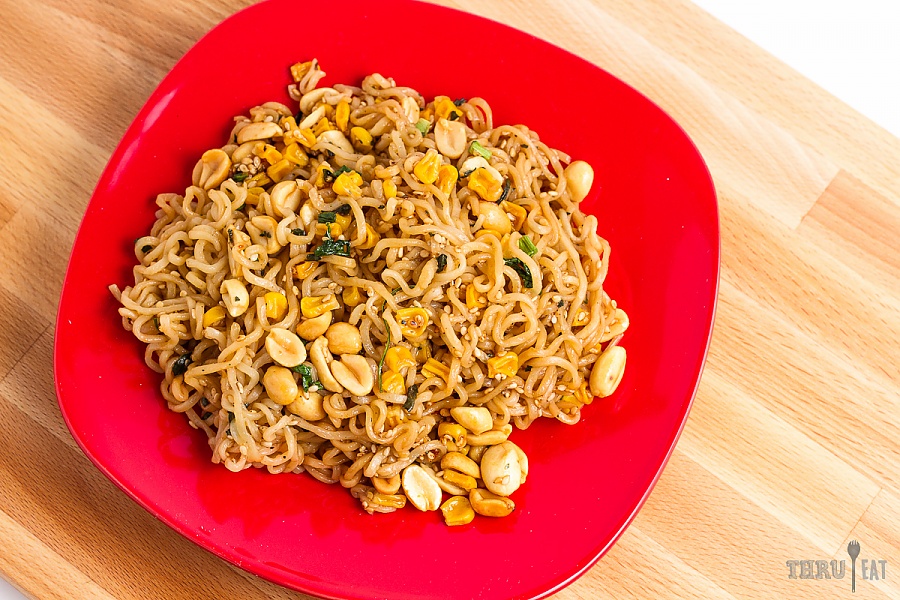 Packaging
All dry ingredients can be placed in one bag. Soy sauce and sesame oil should be contained in travel size packets.
Do you like aromatics? You better like aromatics! Not only is this dish a top calorie contender, it's also intensely flavorful. If you think you were taking a beating climbing mountains, just wait till you get kicked in the mouth by these noodles.
Between the Thai basil, sesame oil, and Sriracha there's enough flavor to cure the worst cases of food fatigue. It might even put you into shock, and it's all thanks to instant ramen. I've professed my unwavering love in the Faux Pho for the Trail recipe, and while I'm resisting every temptation to pursue legislation legalizing the marriage of man and noodle, I just need to say, ramen is so damn versatile.
This recipe uses it as an oil delivery mechanism. If you don't like eating greasy food, this might not be for you; but if you like feeling full, possibly craving seconds, or miss the taste of Chinese takeout, then step right up! With a 20 cent bag of ramen, some dried ingredients and a few packets of soy sauce we can make a "lo mein" noodle dish hundreds of miles from civilization, good enough to make Chef David Chang proud. The dehydrated ingredients aren't many and are incredibly easy to DIY (dry-it-yourself), and the other ingredients can be purchased at your local grocery store or lifted (horded) from takeout dinners.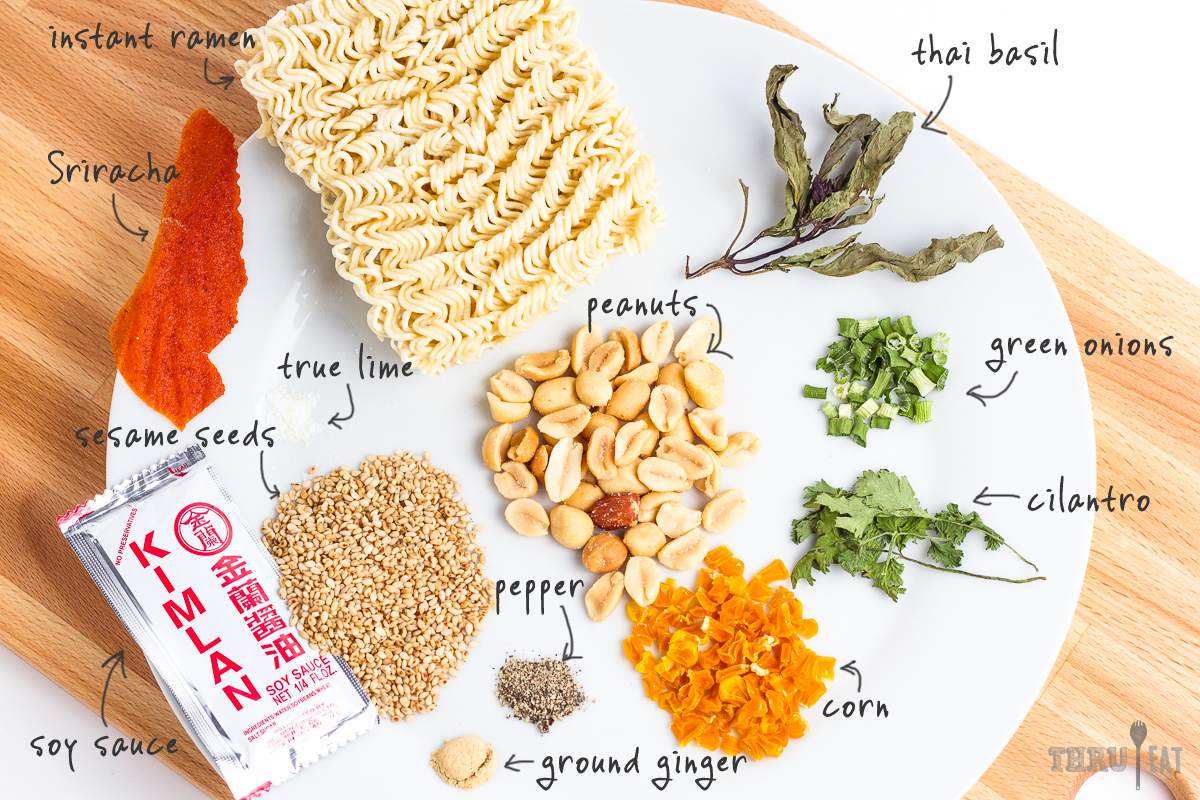 The only thing not pictured above is sesame oil, which probably doesn't exist in small packets like soy sauce. While you can use olive oil (because you're carrying a bottle, right?) I'd recommend just having another bottle for sesame oil and using it in another dish, it's just not the same without it. Or if you're gung-ho about it and have the means, vacuum pack it in a small pouch (no suction required). For the truly hardcore, keep your eye out for an upcoming blog post about how to make "dehydrated" powdered oil.
Do note that the cilantro and basil gets crumbled before being added to the dish, I left it whole for illustrative purposes. If you wonder why there's corn and True Lime, know that they respectively add sweetness and acidity that rounds out the dish and makes it so much better. Also calories. It adds calories.
Now hit the trail and confuse people when they think you've gone backpacking with takeout.
Directions
Fill pot with water, add corn, and put on heat.
Bring water to a simmer.
Add ramen noodles, stirring occasionally until noodles are cooked to desired texture.
Drain, but not too thoroughly.
Quickly add small bits of Sriracha, and stir until dissolved. Taste frequently, dehydrated Sriracha is spicier than it looks.
Add sesame oil and soy sauce.
Add all remaining dry ingredients.
Stir until thoroughly mixed.