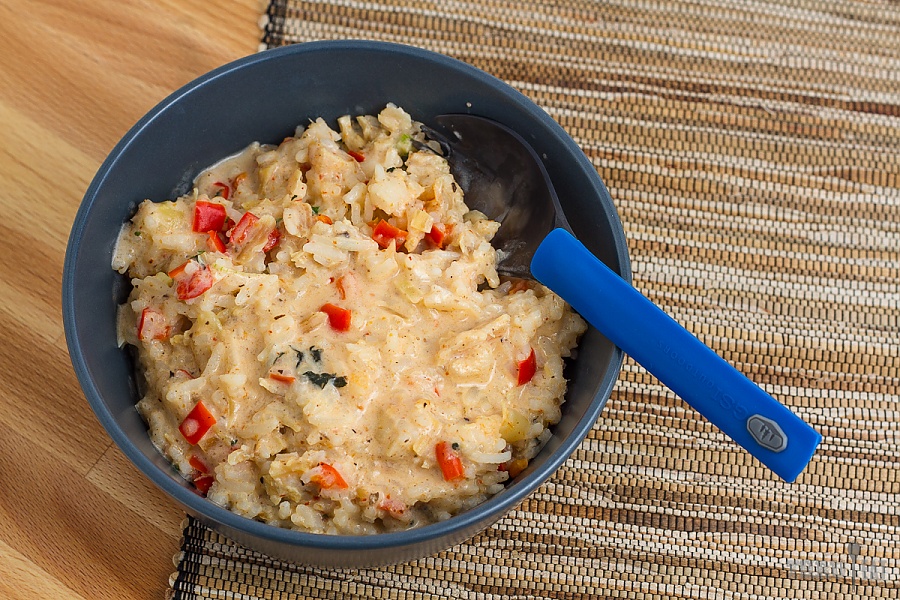 Packaging
Bag 1:
jasmine rice
chicken
red bell peppers
onions
Thai basil
green onions
Bag 2:
coconut cream powder
mushroom powder
curry paste
True Lime
Do you want to get mauled by bears? Or maybe you just want to catch a glimpse of one as it saunters into your camp following the delectable aroma that wafts from your bowl.
While I don't know for sure that this meal will attract bears, I can wholeheartedly say it's fragrant, delicious, cures hunger pangs, and completely destroys any trace of food fatigue on the trail. Red Thai curry is one of the most unconventional dishes to bring on a backpacking trip; but backpackers, especially ones who make their own food are very unconventional people. 
It's one of my all time favorite dishes and I was pretty ecstatic when I figured out a way to eat it on the trail. The magical ingredient that makes the backpacking version of this dish possible is (drum roll please...)  coconut cream powder! Coconut powder is amazing not only because of what you can make with it, but because it's a great way to get fat (oils fat, not Heathcliff fat) without having to transport a liquid.
By some sort of mystical food science, we have at our disposal a product that is made from coconut milk, tastes like coconut milk, but is completely dry and powdered. Pretty much the ideal state of food for any backcountry adventure.
Personally, I get my coconut cream powder at the local Asian market.  It comes in a green box labeled "Chao Thai Brand Coconut Cream Powder," but like most fun foods I use it's readily available online if you can't find it locally. Also, feel free to use your own favorite brand of powdered coconut cream if you already have one. The only requirement is that it's a smooth milky consistency when dissolved with water, it shouldn't contain any coconut solids or chunks. If it does, it's a creamed coconut product and not suitable for this recipe, you want a coconut cream.
When combined with your other classic (or not-so-classic) Thai curry ingredients, it makes a delicious stewy meal that can be eaten with rice or any quick-cooking grain. I prefer to pair it with my own dehydrated jasmine rice, but if you want to save some effort, Minute Rice will work just as well. Hell, it's just as good with couscous and quinoa too.
The only pre-made "food product" you need to buy in this entire recipe is the coconut powder and True Lime. Beyond that, everything can be dehydrated on your own, including curry paste. The brand you use is not important. I'm a fan of Mae Ploy Red Curry Paste, but you can use green, yellow, or even make your own. Just note that the Mae Ploy brand is pretty spicy and a little goes a long way; for those who aren't in the know, the Thai Kitchen brand of curry paste is significantly milder. And if you're bold and want to make your own, it's just a combination of herbs and spices and can be dehydrated like the store bought stuff.
I try to keep the number of ingredients to a bare minimum for the sake of packaging and preparation simplicity, but you can add other dehydrated ingredients as you see fit. The one thing I recommend not skipping, is mushrooms. Whether whole or powdered, mushrooms give the dish umami; something that it desperately needs because we're not using any fish sauce. To that end, I use powdered mushrooms because it allows me to pack in more while taking up less space. Really go nuts with it.
While I really love this recipe and it tastes amazing, it has one drawback: storage odor. If you're going to store it in a zip top bag, double, triple… quintuple the bag because this meal is fragrant! If you're not careful you'll be eating breakfast oatmeal that tastes like coconut curry red bell peppers. I'd highly recommend sealing it up with a vacuum sealer.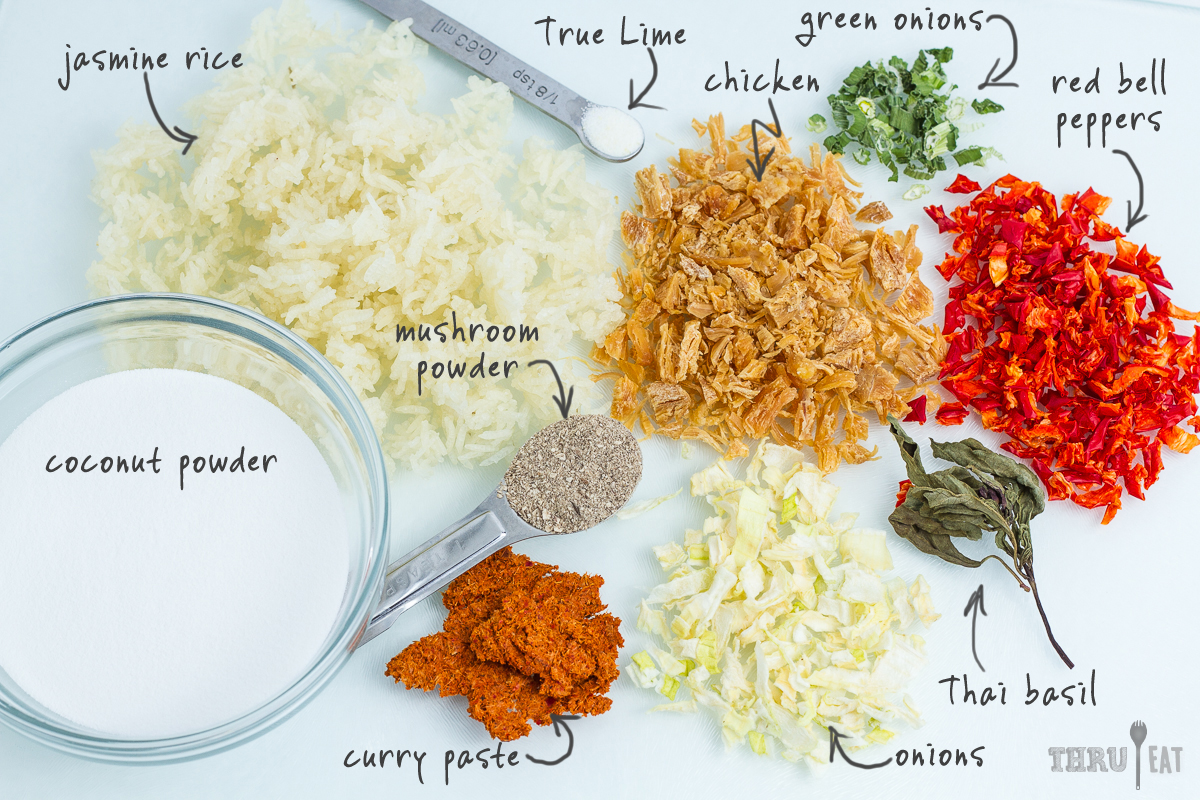 Directions
Empty contents of Bag 1 into a pot and fill with enough water to cover all ingredients by an inch.
Place on stove and bring to a simmer. Add more water as needed.
Remove from heat, cover and let sit for 5-10 minutes.
If all ingredients are rehydrated to desired texture, proceed to step 5. Otherwise, repeat step 2 and 3.
Add Bag 2 (all the powdered ingredients) and stir to combine.
If necessary, add more water and place back on heat.
Eat quickly, the bears are coming!